One of my favorite spots in Portland is Saint Cupcake. Their cupcakes are some of the best I have tasted. (If anyone knows another place that serves better tasting cupcakes, PLEASE TELL ME!) This idea of cupcakes got me thinking, I haven't gotten any donations so far..I am wondering if a incentive will get more people interested in donating some funds. Let me know what you think:


Things are coming along for Josie's Army. I got word that recieved our team shirts a couple of days ago. They should look something like this...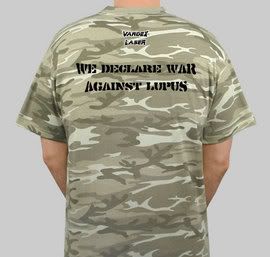 I haven't recieved any donations yet. So if there is anyway that you could help, I would very much appreciate it.
Hello Everyone!
This journal was created on behalf of Josie's Army which is a team participating in the Walk for Lupus Now 2008 in Chicago, Ill. on September 6th. We would love your support in any way possible. We would really love if you joined our team.
Go to http://walkforlupusnowil2008.kintera.org/faf/home/default.asp?ievent=274110 for more info.
We are also accepting donations. Thanks for your interest!

Here is our team page:
http://walkforlupusnowil2008.kintera.org/josiesarmy